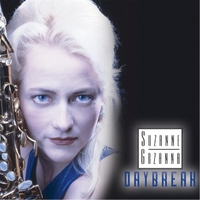 Downright decadent with its luxurious arrangements, Suzanne Grzanna's "Daybreak" is a true delight. With a late-night vibe to it, the way that the sultry vocals sing out is simply stunning. Everything works from the careful saxophone work to the nimble groove that adorn the pieces. The balance that the band strikes is wonderful as they opt for a cool lounge style, one that they seem to understand wholly and fully. A light touch is employed throughout the album resulting in some rather fine flourishes. Serving as the heart and soul of the album are Suzanne Grzanna's vocals which adorn many, though not all, of the pieces.
"Fever" begins the album off on a seductive note. Minimal in nature everything shimmers brightly from the soft keyboards to the tactile bass work. The spry "Daybreak" is imbued with a strong sense of hope as the piano's passion is undeniable, as it the tender saxophone work. On "It Had To Be You" offers up a flirtatious spirit as the song has a slight swinging rhythm to it. A funky soulful vibe informs the leisurely pace of "Mercy, Mercy, Mercy". Jaunty in spirit is the album highlight, the hot heat of "Almost Like Being In Love". Rather spirited, the performance is perfect with the band truly engaging in a fantastic form of gropu interplay. With "Black Orpheus" Suzanne Grzanna ends the album off on a graceful note.
With a timeless classic sound, Suzanne Grzanna's "Daybreak" is a flawless perfectly executed album, one that truly touches the heart.
By – beachsloth.com